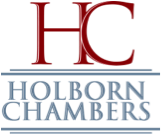 Holborn Chambers is delighted to announce the arrival of
Charlotte Walker as a new tenant. Called to the Bar in 1997, Charlotte brings a wealth experience, specialising in civil work. Charlotte has extensive experience in a wide range of civil areas including insolvency, mortgages, debt recovery, landlord and tenant and personal injury.
You can view Charlotte's full profile here.
To instruct Charlotte, you can contact our clerks here.